About Us
THE HISTORY OF THE BALIAN FAMILY AND THE ARMENIAN CERAMICS OF JERUSALEM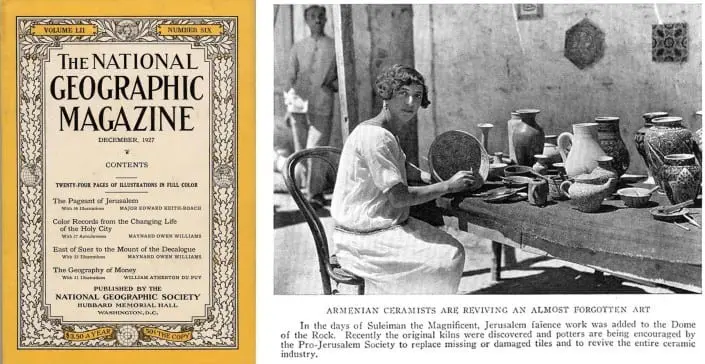 The Balian Family of Jerusalem has been producing exclusive hand painted ceramic tiles and pottery since 1922.This makes us one of the oldest-if not the oldest- business in existence in Jerusalem.
In 2017, Ohan Balian and Alin Balian established Al Saadah Art Gallery LLC in Abu Dhabi. 1965 saw the amicable end of partnership between the Balian and the Karakashian families with the Balian family remaining on the present premises and continuing the tradition of this unique form of pottery.
The history of the Armenian Ceramics is full of ups and downs, suffering and joy. I remember my late father telling me of stories from the late 40s where the situation was so desperate that they used to burn the wooden frames of the factory windows just to get a kiln firing. The factory was destroyed totally in the 1967 Arab-Israeli war except for the huge dome kiln with a full load of fired ceramics which was sold and helped in the reconstruction. Lack of raw materials in the early 30s and 40s was also a problem with homemade solutions of breaking bottle glass and crushing it as ways to prepare badly needed glazes. But eventually my grandfather and later my father overcame these problems and the factory started to prosper.
My father, Setrak Balian, studied ceramics in England under Bernard Leach and then came back to Jerusalem in the early 50's and established a ceramic brick and roof tile factory in Amman, Jordan. He took over the Armenian ceramics factory in 1965 after the death of my grandfather. My grandfather and father were both master potters in their own right. I just wish I had some more free time to be able to practice more the art of throwing on the wheel which they were so good at.
My mother, Marie Balian, who is of French Armenian heritage, is a world renowned ceramic tile artist. Her ceramic tile murals have been exhibited all over the world including a solo one in 1992 at The Smithsonian Museum, Washington D.C. -which lasted for six months and then moved to ALMA (The Armenian Library and Museum of America in Boston MA). There were also several exhibitions at the Ertez Israel Museum of Tel Aviv and also in Alicante, Spain in 2003. She has had a huge influence in creating and giving the Armenian Ceramics of Jerusalem its unique identity. I, Neshan Balian Jr, have been managing the factory since the passing away of my father in 1996.
Our pottery has also been the subject of numerous articles in magazines and newspapers worldwide. These include The New York Times, The Washington Post, The Irish Times and The Chicago Tribune.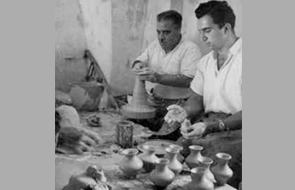 My late grandfather Neshan and my late father Setrak Balian both master potters throwing on the wheel.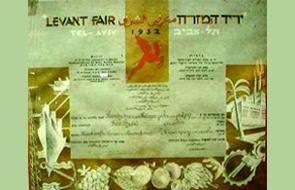 Gold medal given to Balian & Karakashian. Signed by mayor Disingof of Tel Aviv.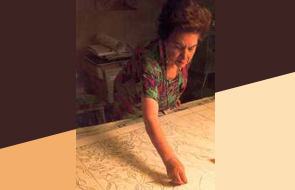 My mother Marie Balian producing one of her large ceramic tile murals for the Smithsonian Exhibition of 1992.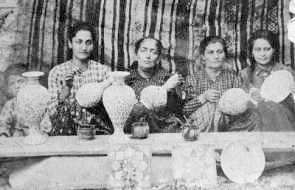 My great grandmother -tall woman on left-painting with friends. Around 1930